#NaNonFricWriMo: Nature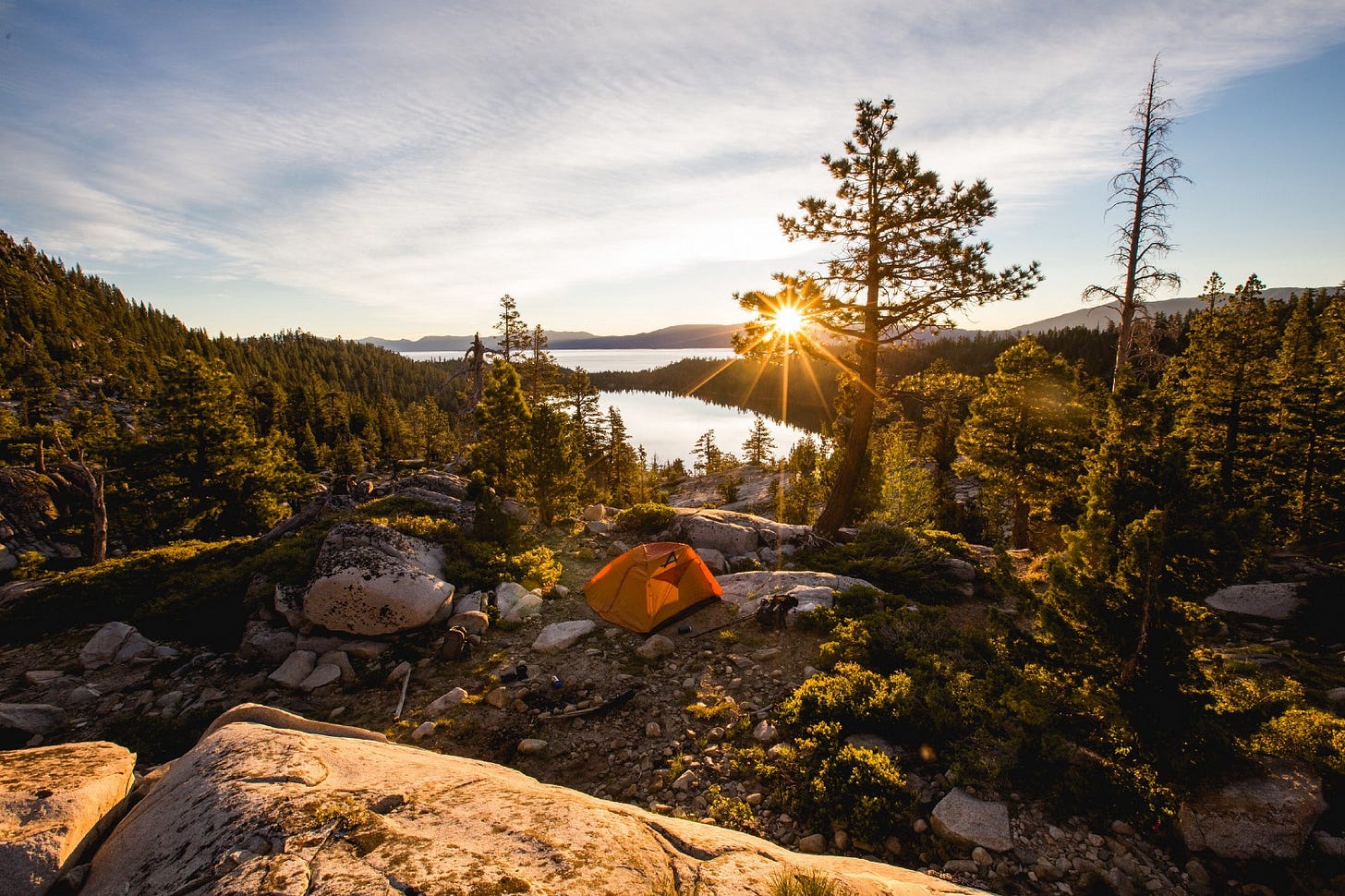 Photo by Teddy Kelley on Unsplash
I just arrived in LA where the air is clear, the sky is blue, and the sunshine ever present. I'm looking forward to pool time and a hike later this week. I've definitely stepped up my outdoors game since moving to California nearly six years ago. Although I'm not a delicate flower, I consider myself to be a city girl out of necessity and a beach bum at heart. Trekking in the woods is not in my DNA even if it has been a small part of my past.
During Girl Scouts, we camped occasionally. I planned a solo trip to Patagonia where I spent 10 days hiking the foothills of the Andes and gallivanting on glaciers. Even with 10 days spent doing 8–10 hour day hikes, you won't find me running away to the woods. I think I've grown out of actual camping but I appreciate a hike. To be frank, spending time in nature seemed like a "white people thing." For someone like me who gets lost in cities even with the help of signs, landmarks and other people, the prospect of getting lost in the wilderness or ending up in a 27 Hours type situation feels terrifying.
Thanks to my awesome friend Kayle who created The Great Outchea, an online community of black, brown, and indigenous people who enjoy the outdoors, I've been lucky enough to go hiking with diverse groups of people. We've climbed mountains while discussing our most ratchet at bat baseball song. (By the way, mine is Ludacris' Get Back).
This spring she organized a small group of black women to go glamping in a yurt. The weekend was positively magic (#blackgirlmagic). We all felt like we could breathe easier with the cleaner air and without the weight of the world on our shoulders. Being a black woman in the United States is hard work. Between the haters and working to keep yourself together as well as all of the loved ones around you, it's a struggle to keep your body, mind, and spirit alive. So we unpacked our belongings around the picnic table outside of the yurt and spoke about how inspiring it was to see black female celebrities looking effortlessly stunning on the magazines we brought. And of course, we raved about all the beautiful hairstyles.
As an outdoor newbie, I got an impromptu lesson on finding starter outdoor gear from Kayle and Rahawa. I shared my advice and techniques for self-care and building a side hustle. We dissected the news of the day as well as the struggles in our careers and personal lives. And yes we sang Beyonce as well as a few 90s classics when we went hiking. During the hike, we took in the scenery and made sure to take photos of ourselves enjoying the wonders of natural creation. Halfway through the hike, we all sat in front of a mini waterfall, and let the sound of falling water hypnotize us.
After our hike, we returned to our yurt and prepared a wine and cheese plate and fruit platter for ourselves, putting the glam in glamping. It took all four of us to get the fire started, but we were proud of ourselves being self sufficient. Once you don't have to worry about mosquitoes, you can enjoy the tranquility without the bloodsuckers always getting at you. Food cooked over a fire is so flavorful. We prepared chicken, shrimp and vegetable skewers. And every camping trip has to have Smores for dessert. As the sun set, the worries of our daily lives faded away and we could simply be in the stillness, smiling and laughing as our marshmallows caught on fire.
This glamping trip definitely changed my perception of nature and the outdoors. I have a newfound appreciation for calming effects of oxygen form all of the plants. A clearer mind helped spark more creative ideas for ongoing projects. Spending time outdoors is a source of recreation that I didn't realize I needed. Have you ever gotten to the end of the day and felt as though you haven't really been breathing? The end of that trip felt like the deep exhale of letting that pent up tension from being unable to breathe. I left feeling more connected to three other amazing black women but also more connected with myself. It's so easy to get caught up in doing and hustling. Walking beneath the trees, feeling the sun on my face, listening the burbling mountain streams all helped calm the mental noise caused by life in the city.
I'm writing an unedited personal essay everyday of November for #NaNonFicWriMo, the non-fiction spin on #NaNoWriMo. You can find daily prompts on my Instagram. Want to join in? The only rules are at least 750 words about the daily prompt and tag #NaNonFicWriMo to share.