#NaNonFicWriMo: Your City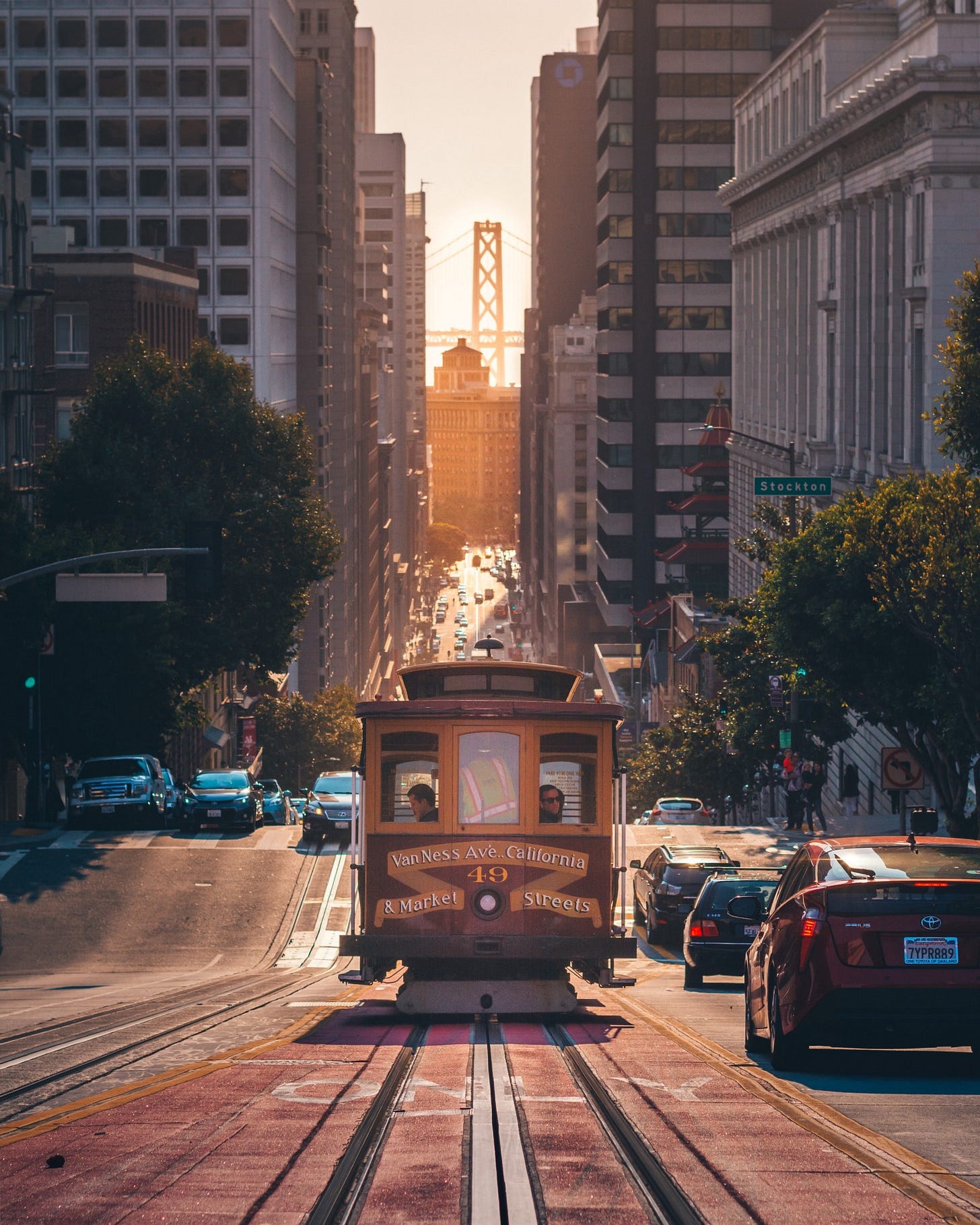 Photo by Amogh Manjunath on Unsplash
I've lived in San Francisco, longer than I have lived anywhere else in my adult life. In those six years, I've lived in four apartments, had four jobs and one business, dated two boyfriends and a few others not worth titling, written one novel with the current boyfriend, lost 20 pounds, hit burnout once, experienced a depressive episode once, and survived five panic attacks. As you can see, I've had some hard core #adulting in a city full of Peter Pans.
I have a love/hate relationship with this place. I love my friends here. It took a few years but I found several ride or dies, a group of black women who are killing the game business wise and leveling up in their personal lives while being real about their struggles. I hate the callousness that arises from living here and the incessant conversation about how the rent is too damn high.
That said, I appreciate many things about this place. I fell in love with street art as a result of living here. And as someone who grew up in landlocked Houston, I'm always in awe of the Golden Gate and Bay Bridges on clear sunny days. My favorite views are from the ferry in between SF and Oakland.
I got to enjoy this favorite spot on a perfect day in the Bay Area earlier this year. My friend Meaghan is a San Francisco native and a true icon and hero in her community. One of the many reasons I love hanging out with her is that she frequently attends community events all over the city. I get to see "normal" people who live in San Francisco which at this point includes anyone who isn't a white millennial who works for a tech company.
On this gorgeous Saturday, I met her at a festival celebrating the reopening of the former Navy shipyard as a community gathering space for festivals like the one we were attending. There were families, several food trucks, a live band, and a large open area to spread out a picnic blanket while over looking the Bay. We ordered tacos and made sure to grab the event's signature bourbon drink, a blackberry smash. Good drinks, good food, and good company are always the ingredient to a great day. We toasted to her recent success in achieving a milestone in opening her business, a day to night restaurant and art gallery in her childhood neighborhood.
That view of the Bay definitely cast its spell. As with many coastal cities, usually the best view is outside of the city. We decided to head to Oakland to continue enjoying our lazy Saturday outdoors. Usually we would have shared an Uber over the Bay Bridge to head to our destination but one of us had the idea to take the ferry. Before we headed over, we walked to a street art installation in the neighborhood to look at the newest murals. After heading to the Ferry Building, we pieced together the steps necessary to buy a ticket and boarded the ferry.
The sun cast a golden glow over the San Francisco as the boat pulled away from the dock. Naturally we continued our day drinking with a glass of California red wine and strolled to the back of the boat. Within a few minutes, the ferry pulled into the middle of the bay in between the two bridges. We both snapped photos and a few selfies together and spoke about how gorgeous the view was.
Throughout the day, we both reflected on major shifts in our life over the last year. Meaghan felt confident about her career direction for the first time in ages. I had reached a new stage in my romantic relationship that both thrilled and terrified me. There's nothing like wine with a view and crisp ocean air to clear your mind and make you feel grateful for the place that you live in. Maybe it was that wine or the air, but we came up with an idea for a new music festival for the Bay Area that would rival Outside Lands. By the time we reached the ferry terminal for Oakland, my love/hate relationship with San Francisco definitely felt more like love.
We decided that the theme of the day's activities was food and drinks so we continued down that path by heading to a farm to table restaurant with an outdoor patio. We took over one of the picnic tables and continued our wandering conversation over a bottle of wine and several appetizers. It was a day full of all of my favorite things about San Francisco with none of the downsides other than the crazy amount of money that I spent.
I'm writing an unedited personal essay everyday of November for #NaNonFicWriMo, the non-fiction spin on #NaNoWriMo. You can find daily prompts on my Instagram. Want to join in? The only rules are at least 750 words about the daily prompt and tag #NaNonFicWriMo to share.