#NaNonFicWriMo: Handmade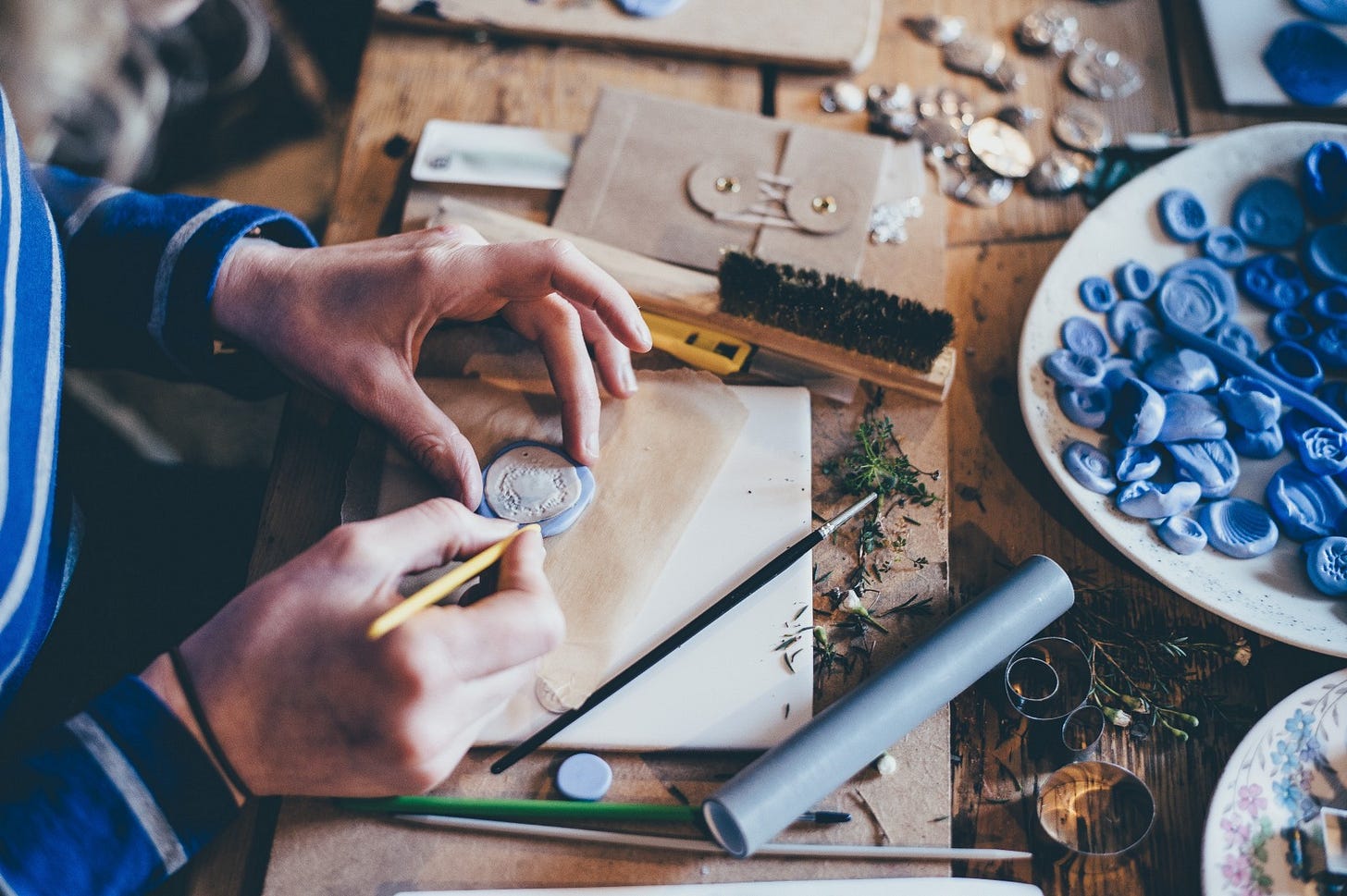 Photo by Annie Spratt on Unsplash
Happy #SmallBusinessSaturday! Yesterday I was at a mall for the first time in ages. Of course, it happened to be on Black Friday. Fortunately, there was none of the violent pushing and shoving that Black Friday has become famous for in prior years as people jockey for discounts on the hot toy of the season or a TV. That said, when I walk around malls, I notice how much I don't want to buy any of the things I see. Maybe I'm getting set in my ways, but all of the clothes and other items look the same. Don't get me wrong; I'm no ascetic. Marie Kondo would still have a fair amount of work to do in paring down my belongings.
But I've reached a point in my life where I don't care about fashion trends and I don't know if I've ever really fallen under the spell of conspicuous consumption. I tend to buy most of my clothes from thrift stores and, occasionally boutiques. The upside of living in a tiny apartment is that you don't need much to fill it. I moved in owning all of the essentials. I don't impulsively buy things. Usually, I meet the person who made them or tend to buy things that I've discovered. It's the same philosophy I have for buying travel souvenirs. I tend to buy things that I will likely use in my day-to-day that I are unique to the travel destination.
In the case of the rock sculpture for today's prompt, my boyfriend Yakubu and I made that ourselves. We fished rocks from underwater at the seashore near Puerto Vallarta this year. It now sits on a shelf in the bathroom as reminder of that trip as well as the importance of balance. And ultimately, that's what I love about handmade items. They are unique and they carry a story. It makes possession of items more of a manifestation of human relationships. And as metaphysical as that sounds, it's that human connection that makes life richer.
In many ways, women already practice this philosophy. Any time you go to a nail or hair salon, you typically patronize a small business. And it's never been easier to find handmade goods as there are a variety of brick and mortar as well as online marketplaces that carry fair trade goods in home decor, beauty, art, accessories, and clothing. But it's not really logistics that are the barriers to buying more handmade goods. It's the awareness that builds an appreciation for them.
I was raised with an appreciation for human craftsmanship. My mother has crocheted blankets for everyone in our family, first in infancy and others as we grew older. She also made blankets for all of my closest college friends. She did teach me how to crochet. But I gave up after crocheting four rows of my own blanket. I just don't have the patience. Or maybe I'm interested in making other items myself. I tackled a few DIY items around the apartment and created a couple of artistic projects. That said, given the final results, I don't think I'm going to turn into a sculptor or carpenter any time soon. But I do have a good story about why owning a level is important.
Those who can't do, support others who do. I support friends who have businesses with items they've made and refer their businesses to my networks. I help them tell the story of why they started their business and the impact that they hope to have on the world. Knowing their stories helps the world seem less drab and monotonous like the mall I just walked through.
So on this year's Small Business Saturday, I spent four hours getting my hair braided by an African woman named Sira. We chatted about the clients she usually gets and we talked about Michelle Obama's autobiography Becoming. We both admired her elegance and recognized that struggle of being true to your identity amid powerful forces all too ready to tell you who you are and what your story ought to be. And like other handmade goods, writing your own story is a powerful way of showing how your unique history and perspective creates value and serves as inspiration for others to tell their stories.
So I'll spend more time listening to the stories of people I meet and learning about what they create. Because it's these stories and that help connect us to each other. And having a hand-stitched pillow doesn't hurt either.
I'm writing an unedited personal essay everyday of November for #NaNonFicWriMo, the non-fiction spin on #NaNoWriMo. You can find daily prompts on my Instagram. Want to join in? The only rules are at least 750 words about the daily prompt and tag #NaNonFicWriMo to share.