#NaNonFicWriMo: Beauty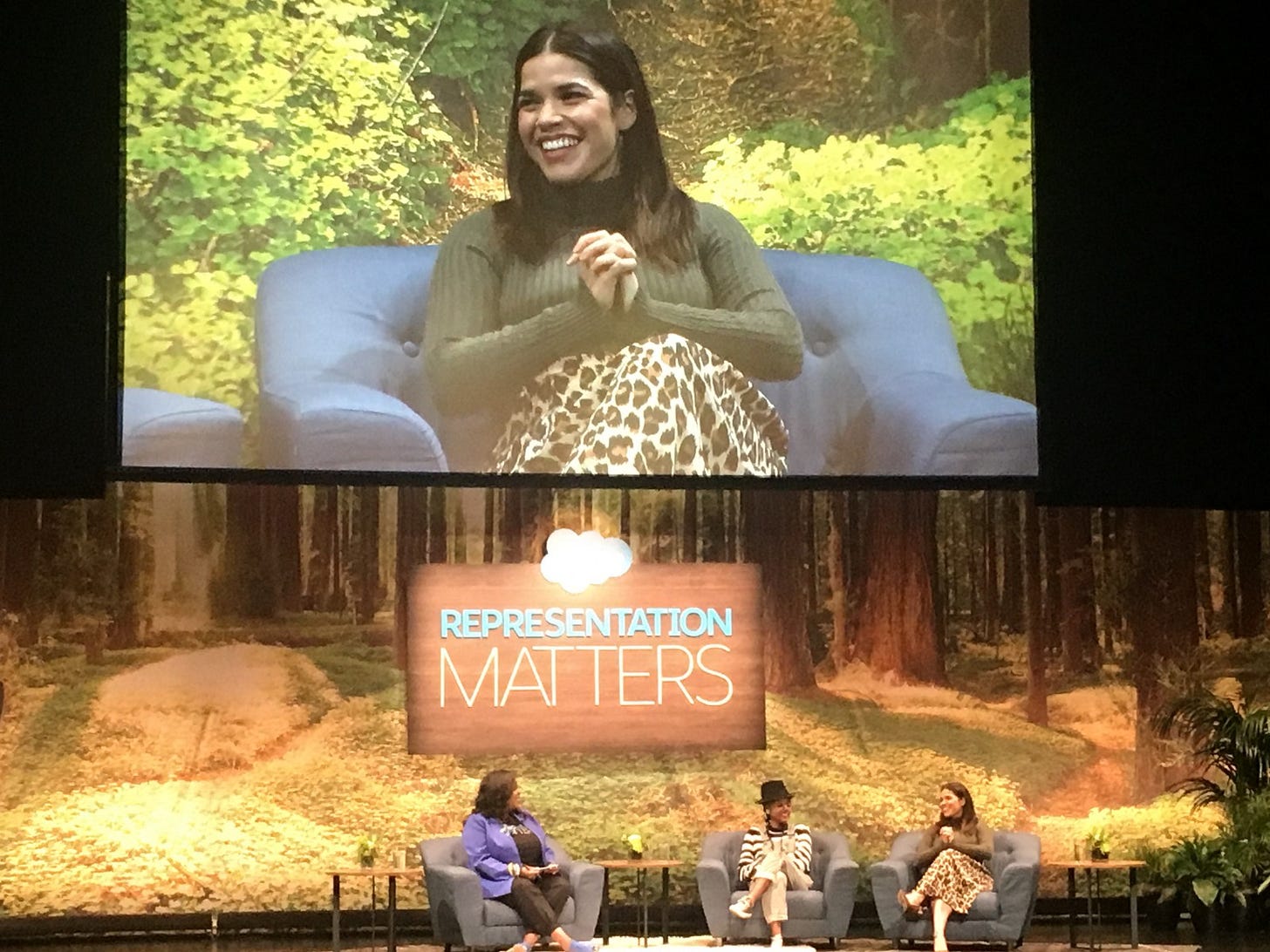 It's easy to wax philosophical about something as abstract as beauty. As the subject of poetry and prose since pretty much ever, beauty really is in the eye of the beholder. It's Gen Z calling a minimalist interior aesthetic AF. It's your friends writing yaaaaas and slay beneath your latest selfie. I've never thought of myself as creative or artistic. Yes I played flute from 3rd grade through high school. I dabbled in photography but always felt that I was too rigid or boring to pursue it. That kind of ability, creating beauty, felt out of reach.
An ocean of difference exists between beauty and prettiness. Prettiness means the dress that caught your eye while window shopping. Beauty is the haute couture concoction that stops you in your tracks, causing your mouth to fall agape. Prettiness elicits oohs and ahhs while beauty leaves you speechless or barely squeaking words. Experiencing beauty is like going to church. All of your physical senses are engaged but you also feel consumed by wonder and awe. It's a sense of power but not in terms of domination but rather an unshakeable confidence and an intuitive knowledge that whatever you devote yourself to will happen. You feel a tremble and warmth in your soul even though two seconds prior, you could not have said where your soul was located in your body.
Earlier today, I thought of writing about my experience at a photography museum in Sweden that reawakened a creative yearning I have had for years. While no small feat, that visit didn't compare to my experience this afternoon. I attended a conference on representation and diversity. The last panel featured Janelle Monae and America Ferrara, two women of color who I deeply respect and admire.
I've adored America Ferrara for years. I have seen Sisterhood of the Traveling Pants several times. I've watched every episode of Ugly Betty at least twice. I had never heard America speak as herself. The beauty of it was seeing the through line from her real self to the characters that I have seen her portray focused on the fight to be your authentic self. She even said, "The reason why you always see me pick strong Latina female roles is because I am a strong Latina woman. I don't know how to be anybody else." The raw authenticity pushed me to sit at the edge of my seat. Here was someone who didn't wonder if she belonged in the room or wonder how to use her platform. She shows up and does the work. And encouraged us to all do the same. It's beautiful to feel included in an expression of authenticity.
I'm not the kind of person that gets stuck in analysis paralysis. I tend to conduct due diligence and then act, preferring to see change as an experiment rather than a fixture. America's remarks reminded me of the power and beauty recognizing the tools that I have at my disposal to create. For her, that meant building community and staying proximate to people who she wanted to help have a voice in the rooms that she's in knowing they don't have the same tools that she does. I've said before that self-awareness is the one unique superpower that every individual possesses. When you know your strengths, values and motivations, there's not much that anyone can do to stop you. You're prepared and you have removed the biggest obstacle which is usually yourself.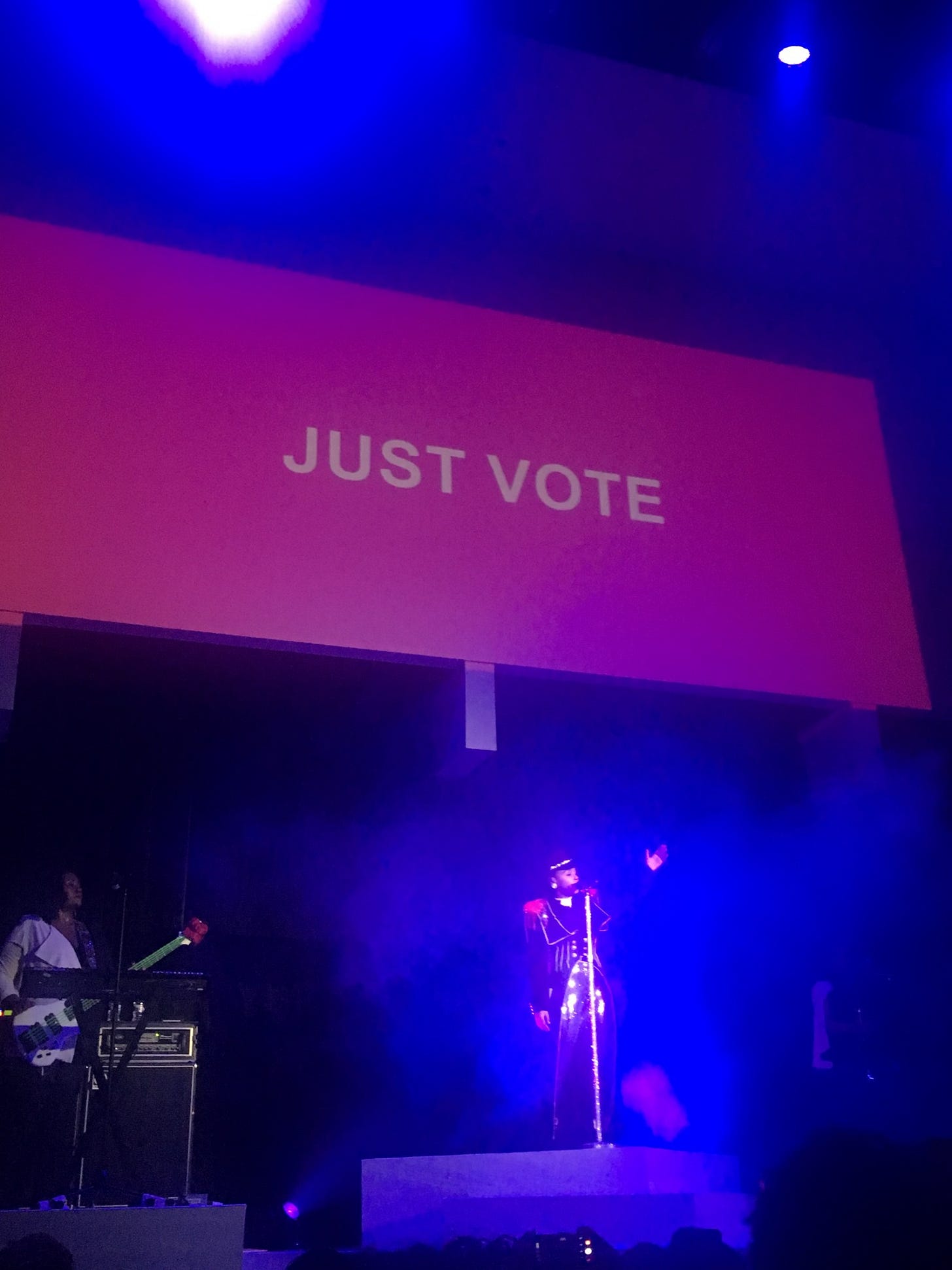 I've also admired Janelle Monae for years. The last time that I saw her perform live was in 2011 or 2012 at AfroPunk on a side stage. If memory serves, she had just released her full album after having produced a few mixtapes. And now seven years later, she starred in Hidden Figures, she has several Grammy nominations, her own record label, and a deal with Cover Girl. Her commitment to being herself for herself has propelled her career to amazing heights. One of the many things I love about her artistry is that it's a comprehensive expression of her history. Her albums have references and storylines that cross years. Her choice of wardrobe was purposeful. She has referred to it as a uniform, much like the ones that her working class mother and father donned. She intentionally portrays a certain level and type of sexuality to challenge beauty standards.
This afternoon, she remarked that her interests in science fiction and technology were bizarre for an emerging black artist in Atlanta. She persisted because it was more important to remain true to herself and the artistic vision she had for her future. This unshakeable faith in her creativity as well as her commitment to independence to preserve the integrity is stunningly beautiful. Witnessing her story while still at the beginning of my journey as a baby creative inspires me to not waste time on doubt and questioning myself. And I now see and feel that my ability to create beauty is within reach.
I'm writing an unedited personal essay everyday of November for #NaNonFicWriMo, the non-fiction spin on #NaNoWriMo. You can find daily prompts on my Instagram. Want to join in? The only rules are at least 750 words about the daily prompt and tag #NaNonFicWriMo to share.