Issue #34: Future Flips and Belonging
"Look closely at the present you are constructing: it should look like the future you are dreaming." — Alice Walker
The Future of Belonging examines how we can redesign tools and remodel approaches to fulfill the basic human need for belonging over the next decade as loneliness, alienation, and exclusion become more pervasive. If this newsletter was shared with you, please thank the sender. I invite you to subscribe and join the community as well.
Two issues ago, many of you joined a collective experience in playing the game 100 Ways That Anything Could Be Different. You can check out the rules of the game here and take a look at what everyone has contributed in Issue #31. I have loved seeing the cross-section of perspectives and insights as well as imagined visions of how the future of belonging could be different in the next decade. I've selected a few of the flips that I found to be most interesting and provocative along with potential avenues for them to contribute to this future.
Built environment acknowledges & centers tied and torn identities, especially re: climate migrants
New legal frameworks recognize climate migrants as global citizens with inalienable rights

Younger generations view the world in a globalist sense (less place-based identity, social media states)

We live closer together and have to take care of our environment (communal gardens)

People are "assigned" parts of the environment to take care of as a condition of receiving UBI as environmental stewards
I love this flip for the call to reimagine public space as well as our homes. With so much attention paid to our homes amid the lockdown, many of us have doubled down on home improvements or moved altogether in search of a home that supports our emotional and social well-being. It's reasonable to see how this drive for improvement of our physical environment moves outside of the home as we learn how to adapt and overcome the current pandemic and other environmental shocks to come. By centering the design of these spaces on those most vulnerable and those torn from their roots of identity and history, we can have our environment be a source for healing and reaffirmation of global values. This flip emphasizes the need for physical and psychological safety as a precondition for building belonging, underlining the reciprocal relationship between ourselves and our environment. We shape the built environment as much as it shapes us, so our smart cities need to make room for the emotional complexity for displacement, making space for grief, memory and celebration.
Belonging is not a product of feeling, but of doing
We develop new and wider-reaching communities of care inspired by the 2020 pandemic. We have learned that the nuclear family is too small and fragile. And mutual aid organizations have taught us how to care for one another.

Since belonging is expected and created instantly, it becomes our human task to nurture, enhance, and value it.

We depend more and more on each other for sharing and trading communities (less consumerism)

Monogamy is no longer the relationship model of choice, so different close realtionship models emerge.
In some ways, the flip makes belonging something that can be measured, indexed, assessed or even optimized as it becomes the product of observable action. Mutual aid networks have spotlighted the vast demands of the care economy in every community. We can measure the increase in belonging with every meal delivered and every tenant that avoid illegal evictions. Paradoxically, we have not seen the same concrete actions from large platforms in actions that produce belonging. Instead, small groups of users ranging from Black women to sex workers have been relegated to the side as modern-day Cassandras even as they unmask bot networks With new networks like Telepath and Somewhere Good, there's hope that our digital spaces can catalyze behaviors but also leverage digital infrastructure to make belonging a product of doing.
Stories of belonging don't just tell of its joy or its problems; they create its joy and its problems
A desire for inclusion pervades the arts, and people begin to think of belonging as commonplace; it just happens.

Education and higher education shift from physical communities to "thought communities." The anonymity creates an inclusive and equalizing trend.

Fitness, eSports and astrology mainstream as new religions

Blockchain tech for indices of knowledge facilitates sharing information
Because artists are activists, stories have been and continue to be a force for cultural expression, creation and preservation. In highlighting the ability of stories to not only transmit feeling but also to co-create and evoke emotion, the storytellers — the griot, the troubadour, the bard — become the architects of joy. Spaces for meaning making whether in intellectual exploration or in spiritual transcendence all fuel the generative power of narrative; rather than one book or one church, we find these joy-creating stories in memes and content-dense immersive media. What the stories lack in breadty, they gain in emotional depth and intensity.
I'd love to hear about your favorite flips!
Click the image below to view the full Miro board (password: DIFFERENT). Use the dots to select the flips that you think are most important and impactful to focus on for a future with greater belonging.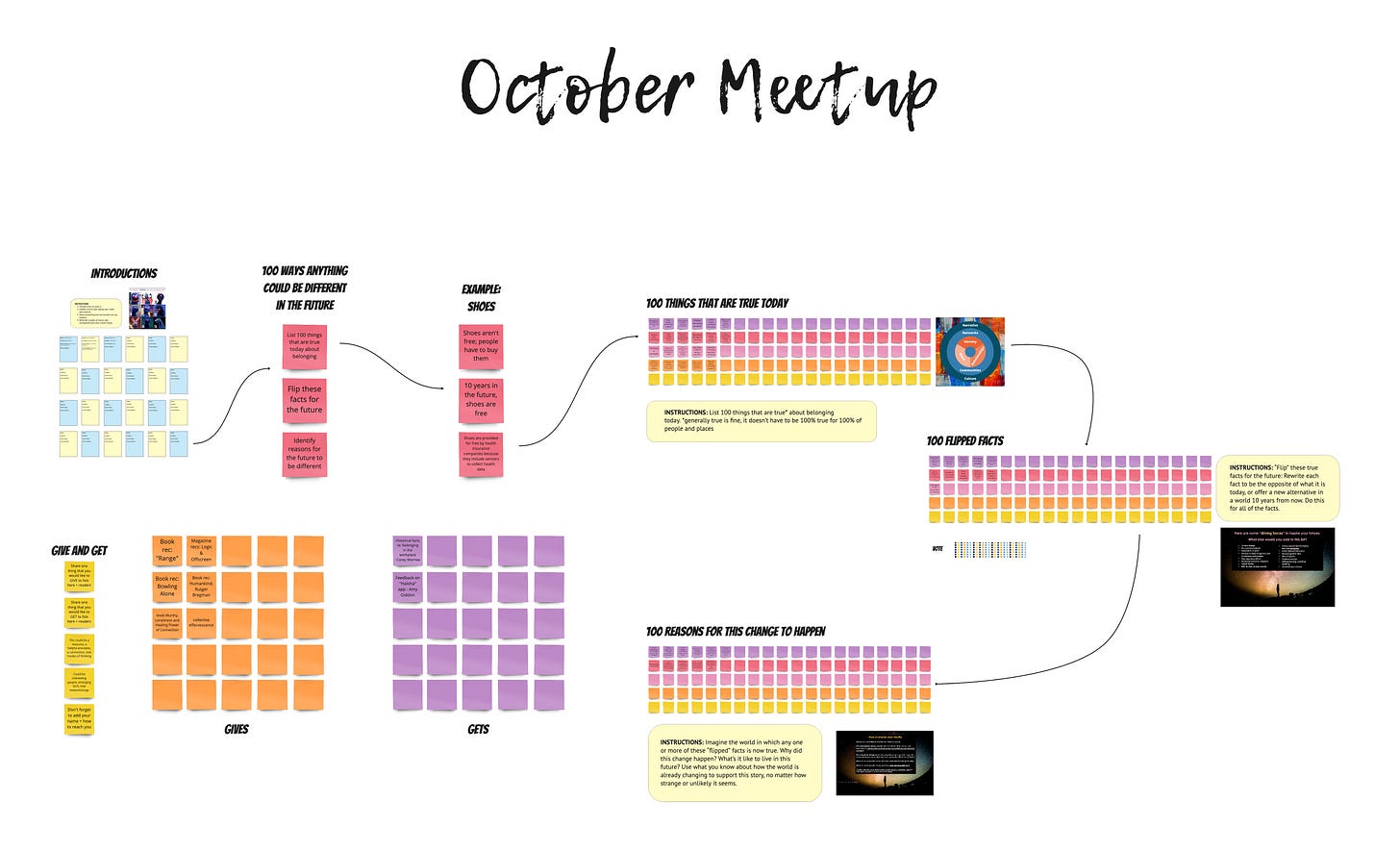 Coming Next
I'm excited to share Part 1 of an interview with Elena Giralt, fellow Texan and fellow earth sign, reader of this newsletter, and someone eager to build better future of belonging. We talk about redefining algorithmic optimization and new sources of value creation.