Issue #25: Belonging and You
All about you dear readers...
Hello dear readers!
I've used this real estate as a sandbox for my own learning. Today I'm adding your thinking to the sandbox!
We will also have the opportunity to learn together next Monday, August 24 at 5:30 pm PT at this month's meetup. You can RSVP at bit.ly/belongingaugust.
I set up this Miro board to co-create and learn together.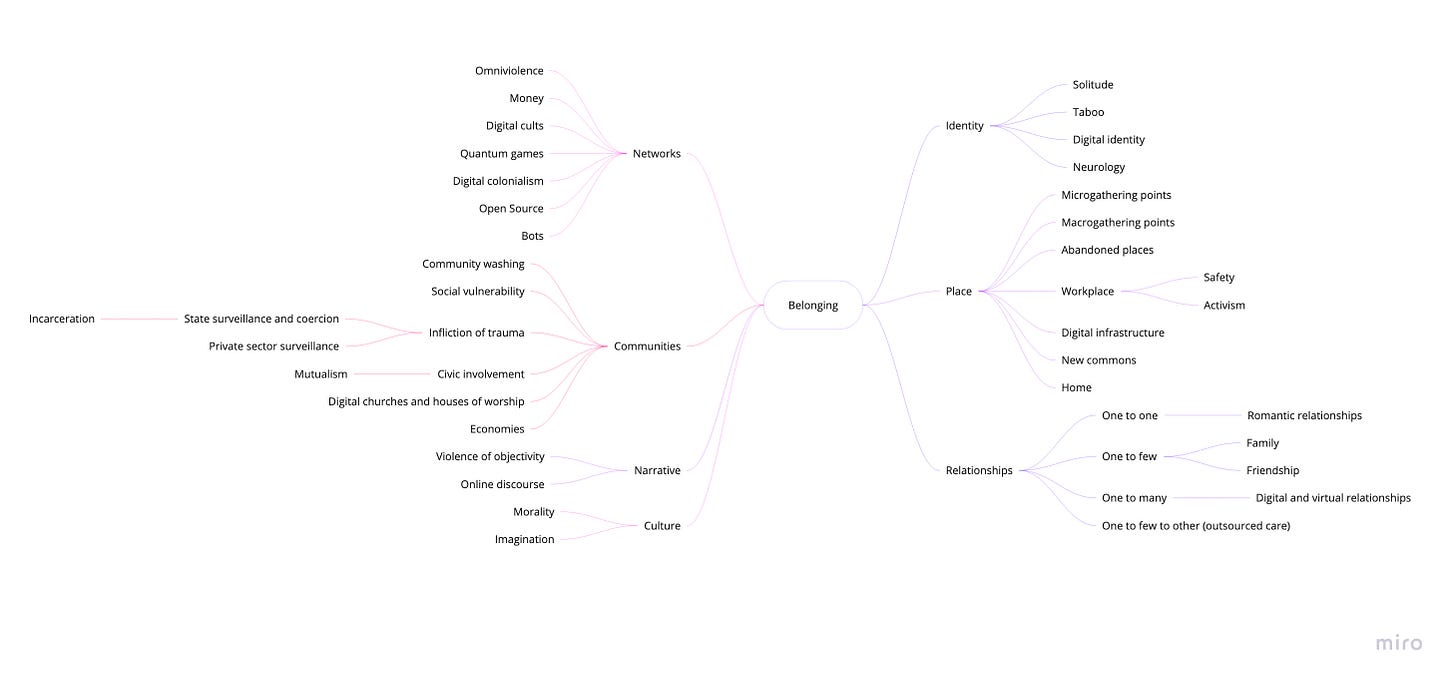 Here are a few of the areas of interest from subscribers:
Sharing the belonging practices of others

Relationships: how to have healthy/respectful ones

How we create organizational cultures that courageously confront the huge challenges we face as a society (and not just in the hand-wavey values sense, but how do we really *dig in* to the hard work of making this happen and come alive in day-to-day work?)

Digital exclusion – I think about a lot this, the fact that we have a lot of people without internet access or devices and the impact of the digital exclusion in their lives, education, and social integration).

More about health and tech and how they can come together to build a beloved community in our future.

#metoo

How to build from the margins.

I'm deeply interested in the nexus of the future of belonging and the future of translingualing--operating between and across languages as a form of freedom from monolingual restraint as well as a means of resisting monolingual bias. The pluralverse is multilingual. Linguistic representation matters when co-creating preferred life-and-planetary sustaining futures.
What else would you add? Write them in the comments below!
Here are a few ways that we can foster belonging in this little community:
Would very much like to deepen and professionalize my foresight praxis in dialogue with more experienced and interested folx.

It'd be cool to maybe start a book club, or a newsletter club! Something like a slack chat or discord chat.

I would love to hear from other Latin American and/or Mexican people interested and involved in these kinds of topics in order to further discuss and create a community.

To make me not feel like I'm the only woman in my team

I'm curious to hear from others what their belonging practices look like.

I think it could be fun if you randomly selected a few readers to participate in a "Give/ Get" section. If you were randomly selected that week, your "give" could be an article that changes your perspective, a donation in the name of belonging to an interesting nonprofit, a poem you wrote. Or if you are not in the spirit of giving, your "get" could be a request - prayer request, feedback on a resume, etc, etc, etc. That would also motivate me to read every post.

Finding ways to plot together, trade notes/intelligence, etc

I think a community that is committed to belonging is a perfect place to be introduced to new people, ideas, and cultures. Learning from other readers can help me make sure I am offering up a welcoming space to people I encounter in my daily life.

I am trying to find ways of not creating new things, but re-using what already exists and working on making the connections between things.
If you attend next week's meetup, you will have the opportunity to weigh in on more things that you'd like to see as well. Don't forget to RSVP at bit.ly/belongingaugust.
If you're curious about what I've read as well as what I plan to read, I share links on my Twitter with the hashtag #belonging. Here's a few items below:
Artifact from the future: Digital immortality services
Afrocentrism 2.0 exploring what's possible with liberation
Commodified genres of intimacy (Source)