How to do a year-end review
It's that time of year again! When we wonder how this year went by so fast, take stock of what happened and what we've accomplished and where our plans and expectations didn't match up with our reality.
Over the years, I've built my own process for year-end reviews, somewhat because I like making things my own but also to shape a review that better reflects my values. I find many reviews focus on external changes and goal attainment. This productivity-driven focus doesn't square with outcomes that I find to be important: changes in mindset and emotional maturity that shape future world view and behavior.
So true to form, I have reworked my yearly review and wanted to share the updated structure just in case someone else found this helpful.
I broke my review into the following categories:
Thoughts

Feelings

Behaviors

Accomplishments

Successes

Lessons Learned

Next Steps
The first three categories — thoughts, feelings, and behaviors — are ripped straight from cognitive-behavioral therapy (CBT). The basic premise of CBT is that your thoughts and feelings dictate your behaviors. In order to change your behaviors you must become aware of those thoughts and feelings that contribute to unhealthy behaviors, and identify alternative thoughts to challenge and eventually replace the unhealthy thoughts. A year end review is a perfect place to identify the thoughts that have contributed to areas of healthy and unhealthy behavior.
The next two categories — accomplishments and successes — sound similar, but I treated them differently. Accomplishments are those external, tangible products of your efforts whereas successes are internal shifts in perspective and sensemaking that change how you interpret and respond to the world around you.
The last two categories of lessons learned and next steps are fairly similar to previous years in subject matter but I went into both in more depth to expand the scope of what to focus on.
I typically set aside 2-3 hours to go through all of the questions in the process. You can certainly answer all of the questions relying on your memories of the year. I like to go back to my bullet journal and monthly reviews to remind myself of what stuck out at the time. This was my first year bullet journaling and I found it immensely helpful for recording small victories, noticing and practicing self-care and gratitude more often and catching limiting beliefs where I tripped myself up.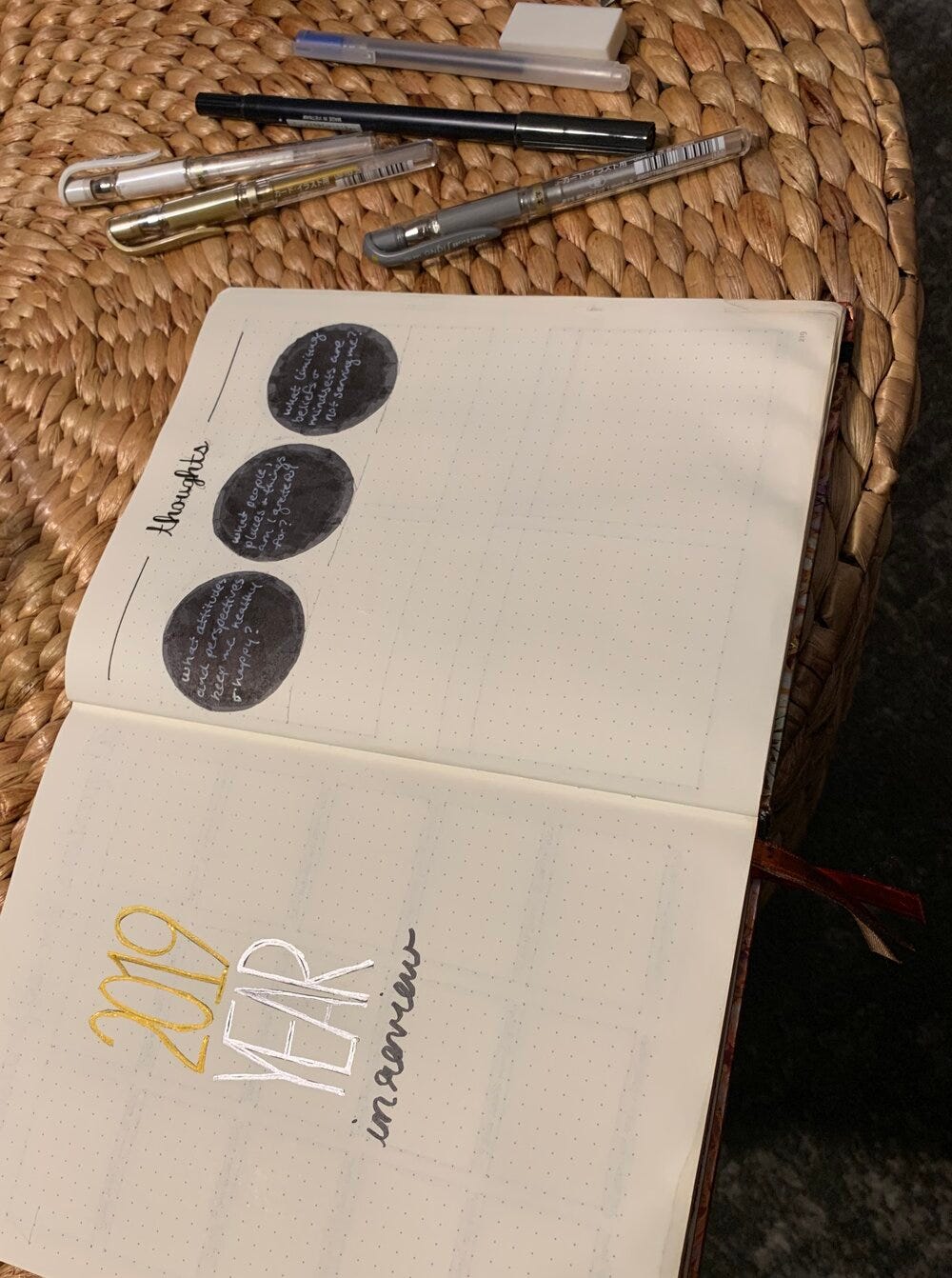 If you'd like to use the same process, check out the full list of questions below.
Thoughts

What attitudes and perspectives keep me healthy and happy?

What people, places and things am I grateful for?

What limiting beliefs and mindsets are not serving me?

Feelings

When did I feel joyful, proud or loved?

Where am I satisfied or content?

When did I feel hurt, angry, or sad?

What have I tried to ignore or stifle?

Behaviors

Where do I need to START doing things?

Where do I need to STOP doing things?

Where do I need to STAY doing things?

Accomplishments

What tangible results have I realized?

What new skills and strengths have I developed?

What obstacles have I overcome?

Successes

What has brought me meaning?

What am I most proud of?

Lessons Learned

What have you learned?

How have these lessons changed you?

Where did i stumble or struggle and why?

What attitudes, habits, and decisions contributed to falling short?

What help is needed? Where will I get it?

Next Steps

What are the big dreams and visions I have?

What identities do I want to embody?

What fears do I need to face?

What wins are missing for me?

Who or what needs to be forgiven?

Where can I stretch and grow?

What do I need to spend LESS time on?

What do I need to spend MORE time on?

What risks can I take?

What skills, both new and underutilized, do I want to put to work?

What relationships, both new and underutilized, do I need to foster?

What environments, both new and underutilized, do I need to amplify?
Once I complete the next steps, I will formulate annual SMART goals for the more tactical next steps
As I get older, I'm finding that my goals are often more like promises that I need to keep to myself rather than accomplishments with defined endpoints. For promises, I will identify 2-3 actions that help show the fulfillment of that promise while acknowledging this is part of a larger lifelong commitment.
For instance, this year I am focused on being more consistent with my financial and physical fitness. While consistency is more of the promise, the way that I am showing that to myself in action this year is by working toward achieving my first pull-up which will require consistent practice.